FX INDUSTRY INSIGHT AND ADVICE FOR FX PAYMENT PROFESSIONALS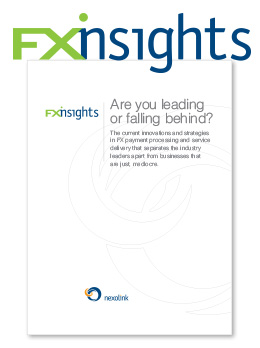 SIGNUP FOR FXINSIGHT TODAY
AN ONGOING COLLECTION OF FX BUSINESS INSIGHT, REPORTS, ADVICE AND ARTICLES ON LEADING POINTS OF INTEREST FOR FX PAYMENT PROFESSIONALS AROUND THE GLOBE.
Read our newest issue on Compliance Automation by Outlier Consultants. Find out if your automated system is defending you like Iron Man, or is bound for the scrap heap. Outlier Consultants is an independent compliance consulting firm specializing in MSB's and Financial Institutions.
Move your Foreign Exchange business forward with Nexolink
Foreign Exchange Solutions
Nexolink specializes in foreign exchange software solutions for every sized FX business. Our e2eFX platform streamlines your trading floor with back office operations and gives you an online customer portal to allow your customers to trade and manage their FX payments from the convenience of their own desktop.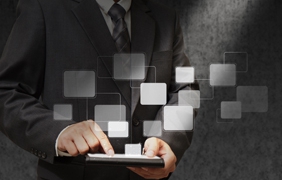 Development Services
Nexolink has designed, built and maintained custom applications, websites and e-commerce solutions for the FX Industry for more than 15 years. We understand the Industry better than your garden variety outsourced development group. There is no substitute for specific industry experience when developing FX software.
Consulting Services
Don't have a dedicated IT department or experienced FX implementation managers? With our trading desk, compliance, operations and FX back office experience we can help your business design and implement IT and FX processing strategies to maximize your efficiencies and maintain the required compliance regimes.
Nexolink specializes in foreign exchange business software solutions for Financial Institutions and Foreign Exchange Specialists
With experience in global foreign payments as well as both retail and wholesale banknote management Nexolink's focus is to offer an FX Payment Specific enterprise level platform at a more affordable cost than other large "Treasury" based platform systems can offer.
FX specialists don't need full blown banking and treasury platforms to run their FX business, why should they have to pay for functionality they never use on a daily or even annual basis.
Our development is based specifically on the actual work, daily tasks and requirements FX professionals need day in and day out. We strive to streamline those tasks and processes into a more efficient process flow so you can maximize your efficiency, process more deals and foreign payments with less staff and grow your FX business.
From its inception, Nexolink has been creating and developing custom FX software solutions by drawing on our extensive FX business knowledge including; Trading, Back Office Management, Compliance, Profit & Loss, Exposure and Margin call calculations all the way through to bank reconciliation.
Specific FX Industry Experience With…
FX Trading Desk Operations
Back Office Processing
Compliance Requirements & Regimes
Profit & Loss Monitoring
FX Risk Exposure & Management
Margin Call Processing
Retail & Wholesale Banknotes
Banknote & FCS Branch Management
Foreign Payment Delivery
Regulatory Reporting & Audit Controls
Testimonial
First Rate FX (UK)

The e2eFX suite of products had more streamlined business features we needed in a more affordable package than other much larger FX software providers. Nexolink was also able to customize some features to our specific requirements where others couldn't or wouldn't. They were ready to consult on business flow enhancements and worked closely with our key personnel to customize the system to best meet our requirements. They offered training and on-going support to ensure a smooth transition to the new system for us.

Bryan Baldrey – Managing Director, First Rate FX (UK)